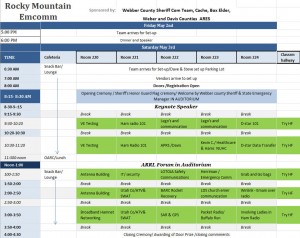 Classes will include:
Antenna Building:
See details on this page, there is a fee for this class.
This Class it $10.00 to cover materials!
Sign-up at the door.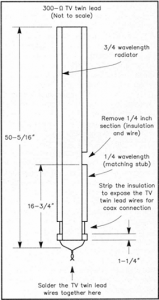 Welcome by Weber County Sheriff Terry Thompson, Opening flag ceremony by the Weber County Sheriffs Honor Guard. Opening remarks by the Utah State Director  of Emergency Management Kris Hamlet.
Herriman's Emergency Communications
The Herriman Fire was big news, now find out what
happened behind the scenes with communication.
VE Testing
Technician, General and Extra license testing will be available.
D-star 101
What is D-star, why is it different, Data Structure, nodes,
Gateway & Reflectors. How to setup radios, linking and
unlinking nodes and reflectors.
Lego's and Communication
Take some Lego pieces, 2 rooms and a few radios and
come see if you really are saying things as clearly as you
think while we build something.
APRS
What is it and what good is it?
Hams and Healthcare
How Hams and Regional Medical Planning work together.
Ham Radio 101
You have your license and a radio, now what? Bring your
questions, handheld and manual and we'll help you figure it
out! We will have people familiar with Icom, Kenwood
Yaesu, Boefeng and Wouxun. Even if you just have
questions – This is an Elmer Class.
LOTOJA Communications Network 
Kevin Reeve – N7RXE
It takes 10 repeaters, simplex, APRS, Skype, Google Docs
cellphones, text messaging, the Internet and 140
Amateur Radio Operators from 3 states to provide
start to finish communications and logistical support for
the longest single day bike race in North America. Come
learn how the hams pull this off and why LOTOJA is the best
Emergency Communications training your
group could ever ask for.
Grab N Go Bags
Being self sufficient during an emergency situation is
imperative! Do you have a radio Grab N Go Kit? Join us
for some ideas on what you can pack into a kit to make you
feel more prepared if called upon to help in an emergency.
Getting Ladies Involved in Emcomm
It's about communications! Do you want to become involved
in Emcomm? Are you interested in Emergency Prep? Are
there activities in your community where you can help? Does
your local club encourage involvement for ladies? Come join
us for some ideas on how to answer these and other
questions.
IT Security
Weber county IT people will teach us how to make our
electronics more secure.
BARC Rocket Recovery
These are not your Boy Scout bottle rockets. Every year
the Intercollegiate Rocket Engineering Competition happens
and hams help locate and track the rockets using Amateur
TV, APRS, radios, beacons and other tools, come check out the fun!
Winlink 2000 Email Over Radio
Winlink 2000 is a worldwide system for sending email via
radio. It provides email for almost anywhere in the world.
Winlink provides vital support for 10,000+ sailors, has been
adopted for contingency communication by many
government agencies and used by infrastructure-critical
NGO such as the Red Cross, S. Baptist Deaster Relief, DHS
Tiered, AT&T Disaster Response & Recovery, FedEx,
Bridgestone Emergency Response Team and more.
Utah County Amateur TV and Swat
Find out how Amateur Radio is helping to keep SWAT
members aware of what's going on in an emergenc.y
Hamnet
Find out how this can tool can help your area in a disaster.
More classes to be announced soon.